It's In The Bag
We're so thankful that you're going to take part in It's In The Bag. Your donation will go directly to someone living in crisis and in need of support during what could be one of the most difficult times in their life. We support people from all different backgrounds, those fleeing domestic violence, experiencing homelessness and those doing it tough.
Your bags are delivered ready for Christmas, we've heard from so many who've told us this is the first Christmas gift they've ever received. Make someone's Christmas this year by creating a bag ready for our it's in the bag campaign.
It's In The Bag collections run from the 19th - 28th November.
Drop-off points will be available at Bunnings stores nationwide, COVID-19 restrictions depending on these dates. We are currently doing everything we can and working on contingency plans to ensure It's In The Bag can run successfully and we can continue to help those living in crisis.
If you're taking part in It's In The Bag, please follow the below steps to build your bag.
Step 1- Choose a bag
The bag itself can be new or used. If you are using a pre-loved handbag we ask that it is in great condition, clean and no clear signs of use.
You'll also need to decide whether you're creating an:
Adult bag
Suitable for adults experiencing homelessness, fleeing domestic violence or living in crisis. Regular-super absorbency in period products is recommended.
Teen bag
We recommend backpacks or cute teen style bags. Please donate teenager/girls pads and tampons in these bags.
Mum and bub bag
The mum and bub bag is not only essentials for a new mum but also for her new baby. Large bags will be required for this donation as there are bulkier donations needed, some people put these items in two bags- one for mum and one for bub- and tie them together. Please donate maternity pads for this bag donation.
Each bag has different essentials to suit the different people we help during the It's In The Bag campaign. Please refer below for further information.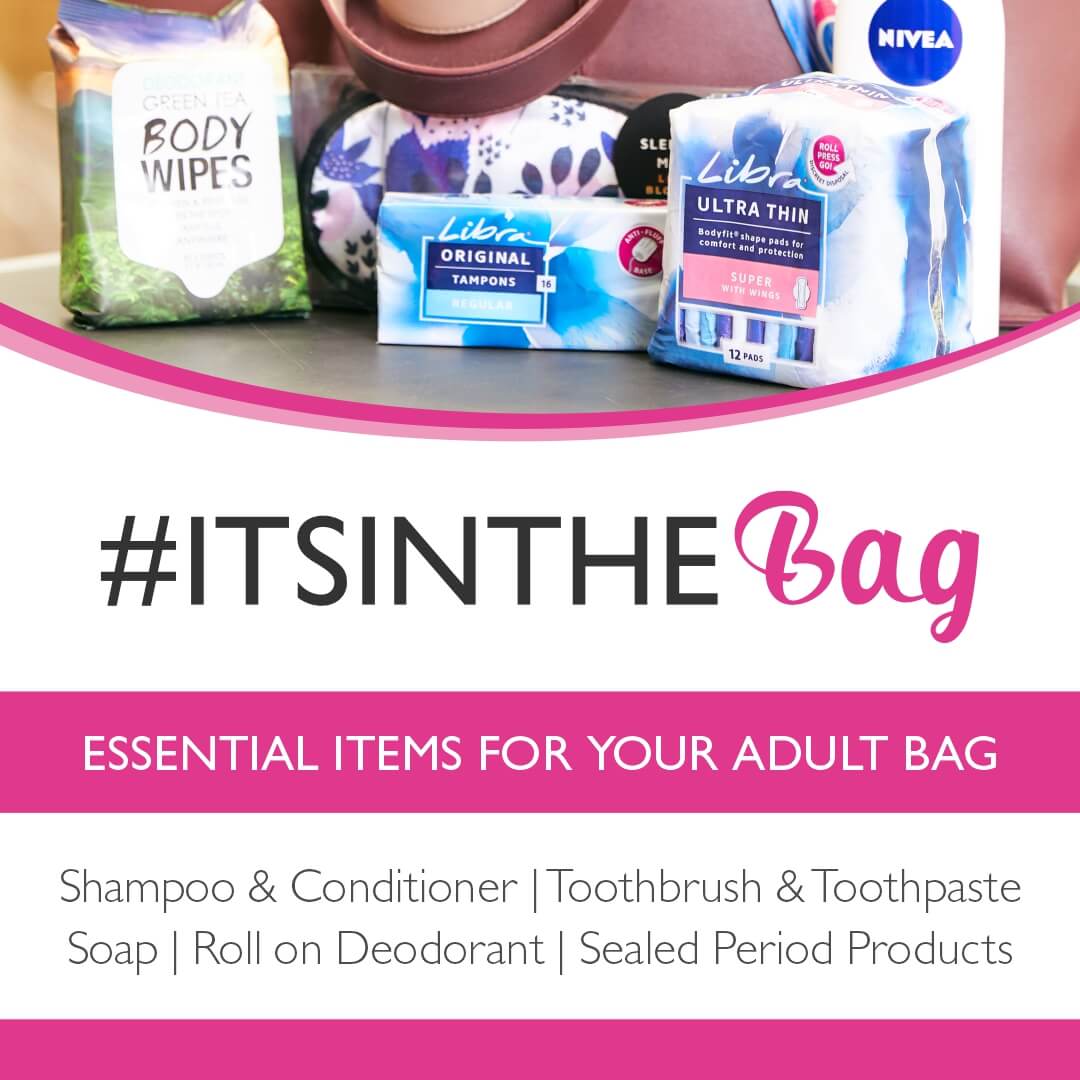 Step 2- Put items into your bag
To build your bag, we ask that you include the essentials listed above and below. We also encourage you to add additional items that would make someone feel special such as makeup, accessories, moisturiser, facemasks, hand cream, handmade items, purses etc. While you're building your bag, keep in mind, 'what would I like to receive during such a difficult time?'
We ask that all items donated are in their original packaging, sealed and in great condition. If you wouldn't gift it to your best friend, please don't include it in your bag.
Download the It's In The Bag checklist at the bottom of the page to ensure you have the correct items in your bag
All It's In The Bag donations require
Shampoo & Conditioner

Toothbrush & Toothpaste

Bodywash or Soap

Roll-on Deodorant

Sealed packets of

pads or tampons
Step 3- Tag your bag
Once you have added all of your items into your bag, we ask that you tag your bag if you are creating a teen or mum & bub bags. Please note, adult bags do not need to be tagged.
You can use coloured ribbon, a scrunchie or fabric to show us what bag you have created.
Purple = Mum and bub
Yellow = Teen
You can download a free Share the Dignity tag to put on your bag so we can easily identify the bag.
Step 4- Take a pic!
We love seeing photos of you and your amazing bags you put together! We'd love for you to tag us in your social media photos and hashtag #ItsInTheBag2020 and we might share your pic on our socials!
Make sure you follow us on Facebook and Instagram too, we will be keeping you updated on all things It's In The Bag and sharing stories from those you've helped with your generous donations!
Use our Hashtags
#ShareTheDignity #ItsInTheBag2020
Step 5- Donate your bag at Bunnings
Once you have filled your bag with the essentials and maybe a couple of special additional extras, you need to donate your bag. From the 20th - 29th November, all Bunnings stores across the country are drop off points for your donations (COVID restrictions depending). You can find the collection box at the front of Bunnings stores. Please do not donate items outside of these dates.
Once you've donated your bag, our volunteers will be working hard to pick up your bags, sort through them to ensure all the correct items are inside the bags and then they'll distribute them to local charities to give to those in need ready for Christmas.
If you cannot donate your bag at a Bunnings store during this time, you are welcome to mail to us at: PO Box 345, Sandgate, QLD, 4017.
Thank you so much for helping us to Share the Dignity!
I have a bag/bags ready, but it is outside the campaign time
As a predominantly volunteer-based charity, Share the Dignity doesn't have the facilities, resources or Shero-power to organise collections of It's in the Bag donations outside of the official campaign which runs at the end of November.
We ask, wherever possible, for you to hold onto your completed It's in the Bag donations until the campaign opens - we advertise the dates and locations for donations extensively across our website, social media channels, newsletter and through our corporate partner network.
Waiting until this campaign is running means that we have the logistics and volunteers in place to best handle the donations, and they get to the women and girls who need them most, just in time for Christmas.
If you are donating once our campaign is closed, you may post your donation to us at:  PO Box 345 Sandgate QLD 4017.
What should go inside a bag?
Essential Adult's/Teen's bag:
Sealed packets of pads/tampons (teen/girl ones for a teen bag)

Shampoo

Conditioner

Toothbrush

Toothpaste

Roll-on deodorant

Soap or Body wash
Essential for a Mum & Bub bag:
Sealed maternity pads

Breast pads

Newborn nappies

Baby Shampoo

Baby Conditioner

Toothbrush

Toothpaste

Roll-on deodorant

Baby Soap or Body wash

Disposable nappy bags

Baby wipes

Dummies

Nappy rash cream
The bag itself needs to be in good condition but can be a pre-loved handbag or backpack.
What cannot go inside a bag?
Unfortunately, we cannot accept these items:
Pharmaceutical items (including condoms, throat lozenges, paracetamol and ibuprofen)

Food and drinks

Sharp objects (including razors and scissors)

Loose tampons and pads
Where do I donate my bag/bags?
You can donate your bag/bags at any Bunnings store nationwide (government restrictions depending) during the 20th - 29th November. We cannot accept bag donations outside of this time other than via mail. If you wish to mail a bag, please direct it to: PO Box 345 Sandgate QLD 4017.
Additional Resources
Download resources ready for It's In The Bag 2020.