Bring together your friends, colleagues or community group to put together bags full of life's essentials to ensure no woman or girl goes without this Christmas.
It's in the Bag is one of Australia's most loved Christmas appeals, where we encourage everyday Australians to put together bags filled with essential items, and maybe some everyday luxuries, to donate to someone in need for Christmas.
Either host a packing party to pack bags, or fundraise with your friends and we will do the packing for you. No matter how you do it, you'll be making Christmas brighter for someone in need.

Bunning collection points are open from 18-27th November 2022.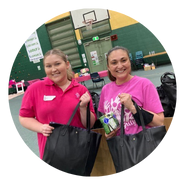 Get together with your friends, colleagues or community group
Pack your #ItsInTheBag donations with the all essentials
You can extra raise funds so that we can pack extra bags on your behalf
Your bags will be received by someone doing it tough this Christmas
With all the resources you need, hosting your own packing event is the easiest way to give back!
Whether you are hosting a party or raising funds (or both!) we have all the tips and tools you need to ensure your packing event is a success!

Sign up today and get access to social tiles, posters and all the information you need.
Kathy was a survivor of appalling violence in the home when she was gifted an It's in the Bag through a local DV charity.

In amongst a bag of essential items, a note reading "You are not alone" restored her hope, and she clung to that message through many more of life's hurdles as an ever-present reminder that to somebody out there she mattered.
By participating in Its in the Bag, you are helping women like Kathy, receive the love, hope, and dignity they deserve this Christmas.