Grant Covington just donated

$52.75

Tash Corbin just donated

$31.65

Kaitie McMaster just donated

$22.48

Sue Mitchell just donated

$23.21

Michael Morrison just donated

$21.10

Anonymous just donated

$52.75

JESSICA LOWE just donated

$50

Kerry Andersen just donated

$21.10

Chelsea McCarthy just donated

$54.86

Mary and Neil Waller just donated

$20

Kate Scaf just donated

$10.55

Jeremy & Helen just donated

$52.75

Amelia Priestley just donated

$21.10

Emma Stockbridge just donated

$21.10

Emma Stockbridge just donated

$31.65

Shine 4 Sophie just donated

$89

Lorraine Ledwell just donated

$52.75

Catherine Taylor just donated

$31.65

Warren Bourne just donated

$30

Julie Phair just donated

$31.65
Move4Dignity this October to make a life-changing impact
This year we are so excited to bring a new element of the challenge to move, you have the freedom to choose how you get moving to support Share the Dignity.
Move4Dignity is an inclusive, virtual event allowing anyone of mixed ability to take part.
You can surf, dance, cycle, walk, skate, ride, or even skip to provide dignity to those who are forced to go without period products.
But we can't do it without you, and we promise we will be here along the way to support you with lots of tools and resources to help you fundraise.
Once you've registered and created your page you will be able to connect your fitness app to share your workouts. You will also receive an invitation to our Facebook group where you can connect with others also joining the movement.
Your fundraising will provide others with a dignified experience managing their period, which can be life-changing.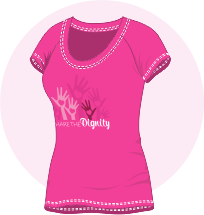 GET YOUR SHARE THE DIGNITY T-SHIRT
Raise $48 within the first 48 hours of registering.
*Limited to first 300.
1. Register yourself or join a team in either run, yoga, or move (which encompasses any other sport).
2. Put your best foot forward by donating to yourself or asking your family and friends to support you.
3. In October remind your network of your goal and why you're taking part, then share your progress.
HIGHEST FUNDRAISER PRIZE - $300 INFAMOUS & MINI SWIM VOUCHER
*Winner will be announced at 8am, 1st November 2020
Highest Individual Fundraisers
Frequently asked questions
Move4Dignity is a virtual exercise event that will be running throughout the month of October. Everyone who registers will set their own exercise goal and create a fundraising page. This page is a place where they can share their progress and collect donations for Share the Dignity.  
Registrations for Move4Dignity will open in July, and fundraising is encouraged up until the end of October. The virtual challenge is running throughout the entire month of October.  
Simple, choose whether you will run or walk, yoga or move your own way and select register.  Enter your details to confirm your registration and set up your fundraising page.  
Who is Share the Dignity?  
Share the Dignity is an Australian Charity aiming to end period poverty in Australia. Our mission is to ensure that people experiencing period poverty have the dignity of access to period products to manage their period because these items are a basic human right, not a privilege. 
Let people know you're participating via social media and tell them why you're so passionate to help people all around Australia doing it tough. People can then donate to your cause through your fundraising page. 
Does it cost money to get involved? 
It's $25 for an individual and $20 if you're part of a team to register. This fee will include a participation medal and a certificate at the completion of the challenge. All profit raised from registrations and any fundraising from the campaign supports women in crisis and Share the Dignity's mission.  
Thanks to our Move4Dignity sponsors