Give the gift of dignity to someone fleeing domestic violence or doing it tough.
Sponsor a bag, or donate any amount towards a bag


Write a message for our Christmas tree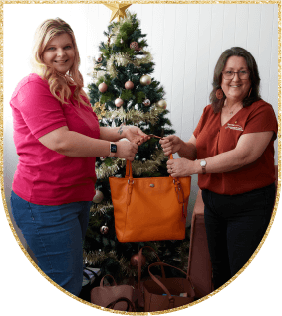 Your bag will be lovingly packed and delievered to our charity partners
Your gifted bag will show someone that they are loved


Kathleen Charmer just donated

$263.75

Samantha Oosterhof just donated

$104.45

Isabel Calder just donated

$51.70

margaret Seliankis just donated

$104.45

Paula Kalleske just donated

$104.45

Belinda Erlandsen just donated

$51.70

Renee Dwyer just donated

$2.69

Laura Telders just donated

$51.70

Anonymous just donated

$26.38

Charles Tran just donated

$500

Geneva Humphreys just donated

$949.50

Geneva Humphreys just donated

$1,040

Stephanie Heng just donated

$527.50

Anonymous just donated

$263.75

Anonymous just donated

$52.75

Sheree Arnel just donated

$75

Patricia Foord just donated

$527.50

Kirralee Collingridge just donated

$21.10

Jodi x just donated

$49

Farm Resilience Division, DAFF just donated

$332.32
We know that for some people, getting to the shops, or dropping off an It's in the Bag at Bunnings is just not feasible.
Now with the click of a button, you can still make a difference by sponsoring a bag online. Our incredible volunteers will pack your bag with care, and then deliver them to our charity partners to distribute to those in need.
Our 3,000+ charities partners request more than 140,000 bags each year. With the rising cost of living, housing crisis increasing, and worsening domestic violence rates these women and girls need your support more than ever.
By sponsoring a bag, you can help fill the gap and play a vital role in ensuring that this Christmas, at least one more woman will receives a bag full of the essentials.
Your donation helps people like Kim
Kim received an It's in the Bag after being placed in a safe house by police due to DV. She had to leave with her daughter suddenly and they only had the clothes on their back.
To receive a bag filled with life's essentials after that horrendous experience was incredible for Kim and her daughter.
In her words she said: "Receiving it when you have nothing, you just have the clothes on your back and nobody, it is incredible. You can't explain how amazing it is. It's like this is mine and I can be clean and I don't feel shame and I have hope, so they are amazing."
Her favourite item inside the bag was the shampoo. After being incredibly stressed, crying and sweating Kim said the first shower where she could shampoo her hair was just incredible. It allowed her to wash the day away and feel clean.
By making a donation today you are helping women like Kim, receive the love, hope, and dignity they deserve this Christmas.
Learn more about Kim's story and the impact of your donation
Host your own packing party! Bring together your friends, family, colleagues, and community to help this Christmas.
Whether you are a workplace looking to fulfill your ESG goal, a school looking to instill community into our future leaders, a sporting organisation wanting to give back, or a group of friends wanting to do something meaningful, an It's in the Bag Packing Party is the perfect way to ensure Christmas looks a little brighter for someone in need.
When you register, you will have access to lots of helpful resources. We have all the tips and tools you need to ensure your packing event is a success!