Working to ensure menstrual equity for all
Share the Dignity works to make a real, on-the-ground difference to the lives of women, girls and those who menstruate who are experiencing or at risk of homelessness, domestic violence or poverty. We distribute period products to those in need and work to achieve menstrual equity here in Australia. When someone is doing it tough, the last thing on their mind should be dealing with their period.

We are proud to partner with over 3,000 charities nationally, helping them to assist the women, girls and those who menstruate who desperately need access to period products. This is achieved through our Dignity Drives and Dignity Vending Machines. We also collect and distribute bags filled with essential items to the people we support at Christmas time through our annual It's in the Bag campaign.
We aim to bring dignity to women, girls and those who menstruate who are experiencing homelessness, domestic violence, and period poverty through the distribution of period products.
In 2015, Share the Dignity was founded after identifying there was a genuine need to provide vulnerable women in our community with essential period products. It was reported that these women are often forced to choose between buying food to eat or buying expensive period products to get through their periods.
Women, girls and those who menstruate who were either homeless or in shelters, were having to clean themselves in public toilets and use paper towels to create makeshift pads. This is not and should never be okay.
From a grassroots local community initiative to a national charity, Share the Dignity has struck a chord with the Australian public and continues to evolve in order to provide for the needs of at-risk women, girls and those who menstruate.
Working tirelessly with over 6,000 volunteers, the charity has been able to deliver over 4 million packets of period products and over 800,000 essential-filled handbags to Australian women, girls and those who menstruate.
Share the Dignity continues to grow with the support of passionate volunteers and the generosity of Australian businesses, ensuring that everyone is afforded the dignity in life that many of us take for granted.
Featured artwork by West Australian Artist Deborah Newenham-Coertse (Woods). Learn more about Debs work here, and her support of and contribution to Share the Dignity here.
Acknowledgement of Country
Share the Dignity acknowledges Aboriginal and Torres Strait Islander peoples are the First Peoples and Traditional Custodians of this land.
We pay respect to Elders past, present and future.
We would like to acknowledge the lands, waterways and cultures of the lands in which our Head Office at Sandgate is located, which is that of the Turrbal and Jagerra nations and extend that respect to all Aboriginal peoples.
Share the Dignity is committed to providing inclusive and appropriate support for Aboriginal and Torres Strait Islander young peoples, their kin and community.
A Reconciliation Action Plan (RAP) is an organisation turning good intentions into real actions and rising to the challenge of reconciling Australia. A RAP is a business plan that uses a holistic approach to create meaningful relationships, enhanced respect, and promote sustainable opportunities for Aboriginal and Torres Strait Islander peoples.
The RAP program includes four RAP types: Reflect, Innovate, Stretch, and Elevate. Share the Dignity is at the Reflect RAP stage. In March 2022 our Reflect RAP was officially endorsed by Reconciliation Australia and we are working hard to ensure we are meet our Reflect RAP goals. You can read our RAP here.
Share the Dignity Founder and Managing Director Rochelle Courtenay has had the opportunity to be on some incredible podcasts. Give them all a listen in this playlist.
For Share The Dignity, good corporate governance means having processes in place, undertaking activities, and maintaining relationships to ensure that the funds we raise from the community are used to carry out our mission.
Learn more about our dedicated board of directors here:
Learn more about our founder Rochelle Courtenay here:
Learn about our volunteers, the backbone of our charity here: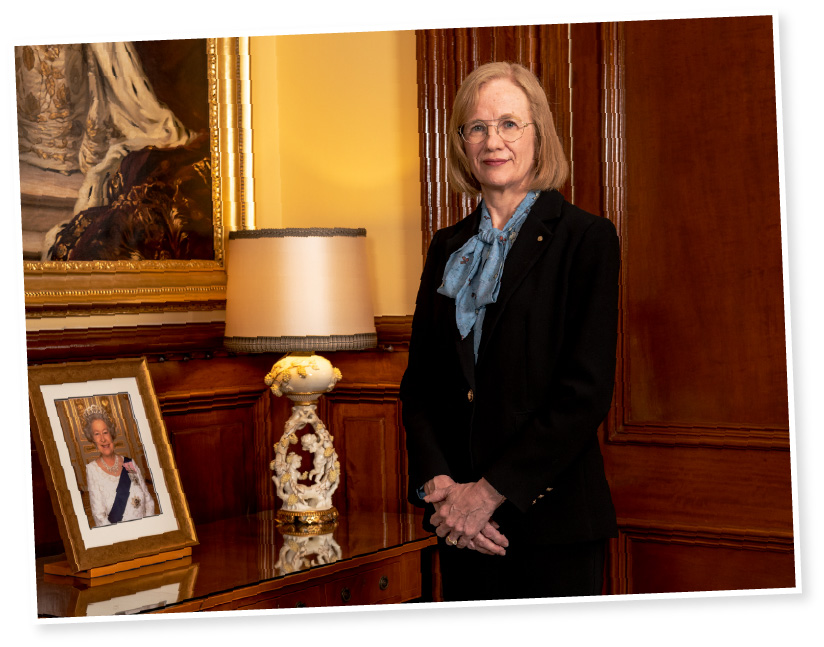 Her Excellency the Honourable Dr Jeannette Young AC PSM, Governor of Queensland is Share the Dignity's first official Patron.
As Share the Dignity's Patron, Her Excellency will be invited to significant events and we look forward to building this relationship over the coming years.
Her Excellency is the 27th Governor of Queensland and was sworn-in on the 1st of November 2021. You can read her biography here.