We call our volunteers Sheroes and Heroes because they are the backbone of the charity and make a real on-the-ground difference in the lives of those experiencing period poverty.
We are so proud of the amazing volunteer community we have at Share the Dignity, who give up their time to help those in need. Key to our success is collaboration, teamwork, and mutual support. Without our volunteers we would not be able to successfully facilitate our drives, initiatives and activities.
Our volunteers assist in a variety of ways including collecting, sorting, logging and delivering donations to our Charity partners. We also have volunteers who provide leadership within their State or Region, advocate and promote the Charity, assist to coordinate key events and assist with grant applications.
We are always looking for new people to volunteer and would love to have you join us!
Share the Dignity works to make a real, on-the-ground difference in the lives of people experiencing period poverty.

We distribute period products to those in need and work to end period poverty here in Australia. When doing it tough, the last thing a person should be worried about is how they will be able to manage their period.

Share the Dignity provides a tangible way for the public to donate directly to the end recipient, by donating and distributing period products.
Our Sheroes & Heroes love volunteering with Share the Dignity!
"The volunteering experience with Share the Dignity is something you will never regret"
"The feeling you get knowing you are helping someone is just amazing"
"I have met so many fantastic people willing to commit to doing something that makes another person's life better, safer, happier"
"I like being a Shero and developing a relationship with the charities in my town. You get first-hand knowledge of how tough it is for some people"
"I have made lifelong friendships having joined this charity"
"Volunteering with Share the Dignity means that I am connected with many other volunteers that share a similar passion"
As a Share the Dignity volunteer, you determine when and how you volunteer, to suit your lifestyle. Across the year we have three key drives (March, August and November) and this is our busiest time for our volunteer community.

You can elect to be involved for certain drives, campaigns/events or put your hand up for a more specialised volunteer role.
If life gets too busy, you can take a step back and jump back in when it suits you!

On average, our volunteers dedicate 3-5 hours per week during our dignity drives.
Ready to volunteer with us?
If you answer yes to all of these questions, then we want you to join our volunteer community!
Do you have a passion to help those in need?
Are you between 18 – 85 years of age?
Are you excited to join a community of kind-hearted people who work together to end period poverty?
Do you have the ability to spare a couple of hours each week during our drive campaigns?
Do you have access to the internet on a computer, laptop, tablet or mobile device?
To apply, click on the 'register as a volunteer' button below!
You will be prompted to complete a short form to tell us more about you and to set you up on our IT system.

Next, you will be prompted to verify your details via email and once completed you can get started with your volunteer induction!

During induction you will be provided with key information to enable you to start your volunteering journey, and this will include joining our online Workplace page.
Come and join the Share the Dignity community of volunteers. Be the change you wish to see in the world and know that your small gesture will mean someone lives with dignity.

We're so excited for you to join us!

If you would like to volunteer with Share the Dignity, register to help those experiencing period poverty



If you would like to raise funds or collect items for Share the Dignity, why not host a fundraising event



If you prefer to help by making a donation, there are a range of options donation options available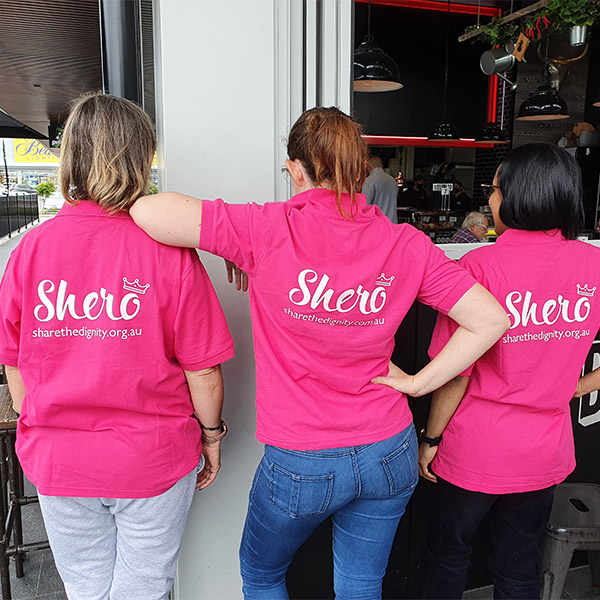 Please note we are currently unable to provide volunteer positions within Share the Dignity that meet the requirement for Centrelink participation of 15hrs per week.
Disclaimer: Please note when registering to be a volunteer with Share the Dignity you will be asked to confirm the information you have provided is true and correct, to the best of your knowledge. That you understand you are applying for a volunteer position and therefore agreeing to use your time, skill, and expertise on a volunteer basis, without compensation of any kind (monetary or otherwise). Upon acceptance of your application, a volunteer relationship in no way constitutes a relationship of employment, partnership, principal, or contractor with Share the Dignity. You agree to Share the Dignity collecting, using, storing, and disclosing your personal and sensitive information for the purpose of facilitating and managing your volunteer relationship in accordance with Australian privacy laws. Your personal information (including but not limited to your address and phone number) may be shared with our Volunteer Leadership team to facilitate your volunteering duties. You understand that all volunteers are bound by the policies and procedures of Share the Dignity.