Can you help us secure our next Paddy Van?

We are in desperate need of our next Paddy Van to help us move period products around Brisbane. Unfortunately, we no longer have the loan vehicle which we had for the last 5 years.
As we start prepping for our most loved Christmas giving campaign, It's In The Bag, we urgently need to secure the funds for our next Paddy Van.
Please help by making a donation today to help keep us moving to end period poverty.
Moving towards dignity for all
Share the Dignity is a national charity which exists with a mission of ensuring that everyone is afforded the dignity in life that so many of us take for granted.
We assist those in need by collecting hundreds of thousands of period products each year through collection drives and campaigns. These products are distributed directly to charities across Australia.
In order to assist with our operations here in Brisbane (where our office is located) we are in desperate need of our next Paddy Van. The van will help us move products around, as we no longer have the loan vehicle we had for the last 5 years.
Please help, by making a donation today so we can continue working to end period poverty.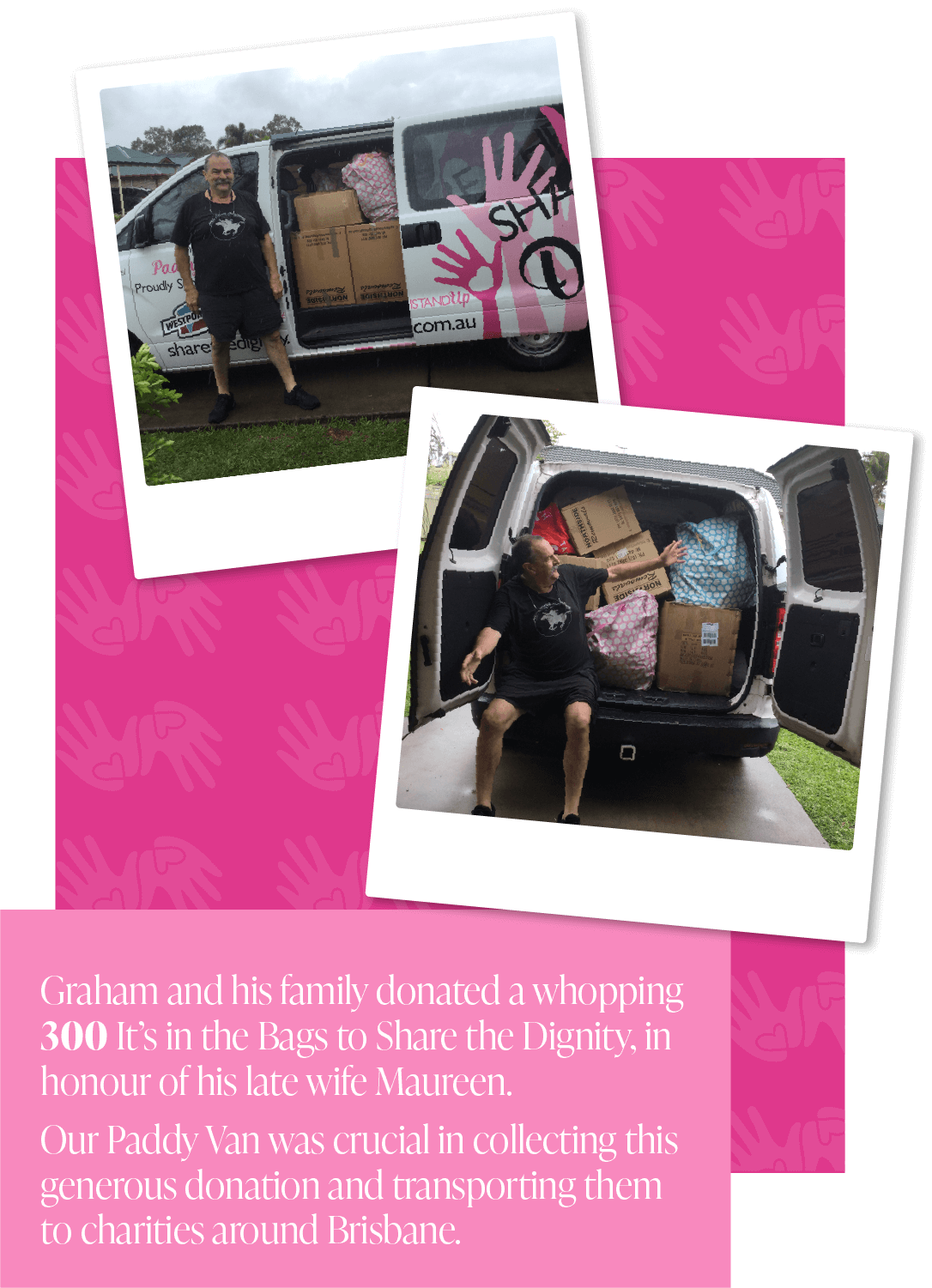 Paddy helps make a difference
When Graham reached out to us to do something extraordinary for his wife, Maureen, we could not have imagined what would happen next.

For Maureen's 60th birthday this year, she wanted to put together and donate bags for our It's in the Bag campaign. This would have been her first time supporting the campaign, and she set a goal of putting together 60 bags. Sadly, Maureen passed away before her birthday. Knowing how much this had meant to her, Graham and her family decided to honour Maureen's memory by putting together some bags.

And wow, did they put bags together!

When we arrived to pick up the bags, we couldn't believe how much work Graham had done to make this all happen. They had put together 300 bags for women in need, and each bag was packed full of the essentials, plus so many amazing extras to make someone feel special. Graham wrote a letter about Maureen's story and placed it, with a $20 note, into every single bag.

The tears were indeed flowing that day. Our beloved Paddy Van was essential in helping us to get the 300 bags to those in need.
Any donation that you can make towards our Paddy Van collection will continue to help us move products around Brisbane, and get them to women and girls in need.
Get your logo on our new Paddy Van!
For a generous donation of $5,000 or more, we would thank you for your contribution by placing your logo on our Paddy Van wrapping.
In addition to the exposure received when this van is moving around Brisbane, when our van is not in use, it is parked in a prime location on Sandgate Road, Virginia. This will give your brand maximised exposure even when it is parked!
Donate via Direct Deposit
Account Name: Share the Dignity
BSB: 064 000 Account #: 16 053 118
Reference: "Donor Name"
IMPORTANT NOTE: When you make your direct deposit, please email your details to accounts@sharethedignity.org.au to receive your donation receipt.
Donate using Paypal
We are happy accept Paypal donations. Please find our Paypal Donation page here, or using the button below.