Move4Dignity 2021 is your chance to get moving in whatever way you want to ensure that all women and girls are afforded the dignity in life that so many of us take for granted.
Running Minds just donated

$50

Grant Covington just donated

$52.75

Max and Josh Simms just donated

$52.75

Abby Johnson just donated

$20

Andrew Crompton just donated

$105.50

Dane Wells just donated

$105.50

Leanne Atkin just donated

$21.10

Mikala just donated

$10.55

Sue Mitchell just donated

$23.21

Anonymous just donated

$52.75

Jessica Lees just donated

$52.75

Darlene Lees just donated

$106.88

Darlene just donated

$52.75

Jessica Lees just donated

$106.88

Julie Clark just donated

$21.10

Gloria just donated

$52.75

Michael Morrison just donated

$21.10

Anonymous just donated

$52.75

Sofia, Vincent & Nicholas just donated

$21.10

Conrad. Carl and Cameron Cockatoo just donated

$21.10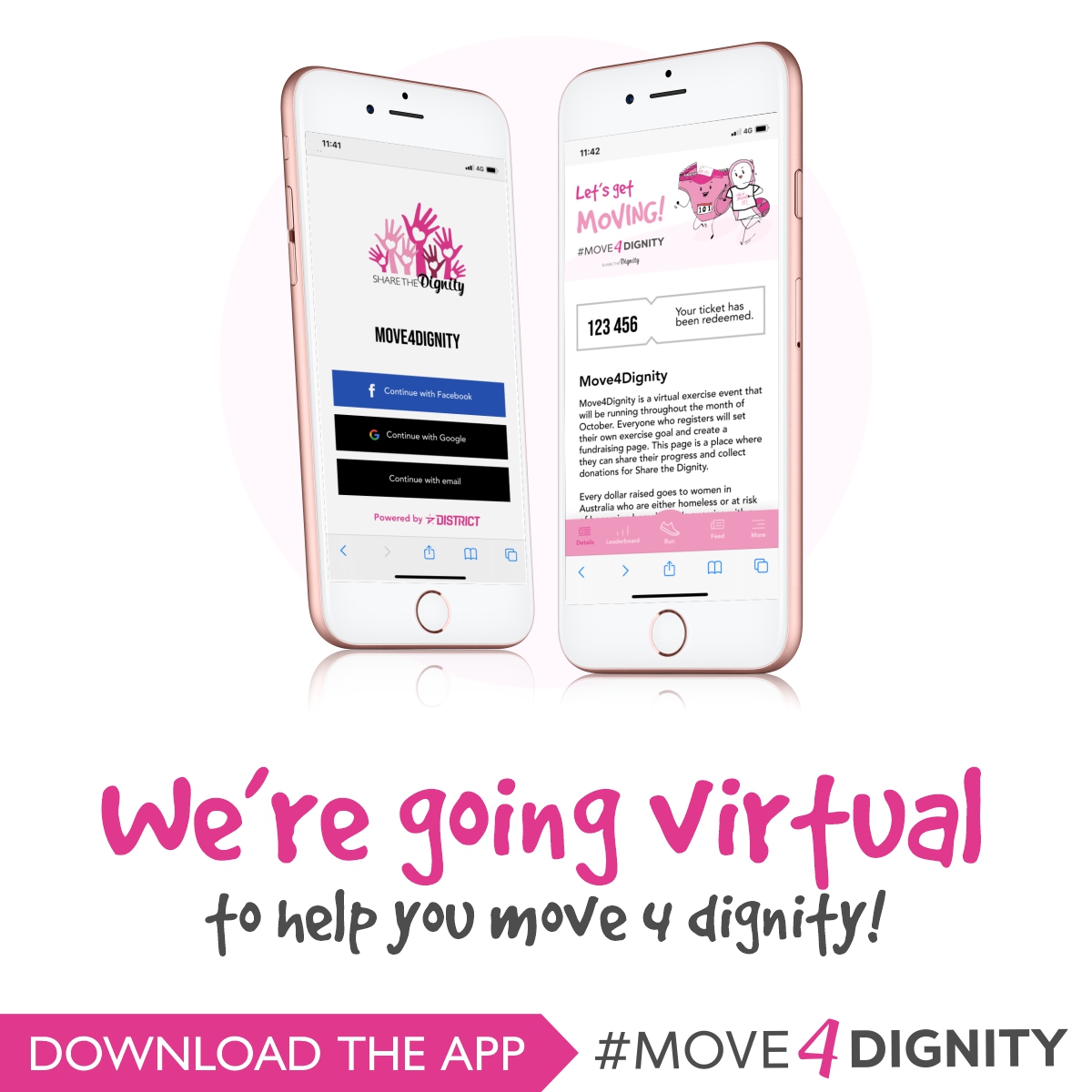 You set a goal that motivates you and get moving to help end period poverty.

You can even track your fitness through our new Move4Dignity app!
All participants receive a 2021 medal, and the chance to win some amazing prizes! Scroll down to see what's in store...
You can sign up as an…
Individual: join in and do your thing
Team member: join a team of friends, workmates, family members, running buddies or gym mates
Team leader: be the one to get your group together and unlock your Move4Dignity visor once you get your first team member
Changemaker: take it one step further and be one of our exclusive changemakers, using your voice to make a change
Entry: $25 individual / $20 Team Members
4 simple steps to get moving
REGISTER
Follow the link below to register. It's so easy!
SET A GOAL
Decide on a time or distance goal to reach during the month of October.
SHOUT IT OUT
Personalize and share your online fundraising profile to get more donations.
USE THE APP
Track your fitness, check leader boards & stay up-to-date with what's going on.
STAY ACTIVE
Whether you already love to stay active, or if it's a challenge for you, setting a fitness goal is a positive and healthy way to get involved.
DO YOUR BIT
Every dollar raised goes to women in Australia who are either homeless or at risk of becoming homeless. It's exercise with a purpose, making a life-changing difference for those in need.
COMMUNITY SUPPORT
Get a team together or do it solo. Track the leaderboard to see how your fundraising is going.
GET YOUR MOVE4DIGNITY TSHIRT
Raise $48 in the first 48 hours of registering to get your free shirt.
*Limited to the first 250.
BE PART OF SOMETHING BIGGER
Join the national movement to make a difference. With movers all over Australia, you will be able to connect through our new and exciting app and engage, encourage and be supported through your Move4Dignity challenge.
PRIZES GALORE
Get fundraising for your chance to win some amazing prizes for fundraising or embracing the spirit of Move4Dignity
and of course, every participant receives a 2021 #MOVE4DIGNITY medal!
We've got everything you need to make your move this October!
Move4Dignity is all about getting active to make a difference for those experiencing period poverty.
While we can't do the exercise for you, we've given you a hand with the rest!
With social media tiles and how-to guides, you can get an extra boost to call on your friends and family to show their support.
Meet our MOVE4DIGNITY Champions
Highest Fundraising Teams
FOLLOW THE FUN ON SOCIALS!
#MOVE4DIGNITY
Move4Dignity Frequently Asked Questions FAQs
Move4Dignity is a virtual exercise event that will be running throughout the month of October. Everyone who registers will set their own exercise goal and create a fundraising page. This page is a place where they can share their progress and collect donations for Share the Dignity.  
Simple, choose whether you will run or walk, yoga or move your own way and select register.  Enter your details to confirm your registration and set up your fundraising page.  
Who is Share the Dignity?
Share the Dignity is an Australian Charity aiming to end period poverty in Australia. Our mission is to ensure that people experiencing period poverty have the dignity of access to period products to manage their period because these items are a basic human right, not a privilege. 
Let people know you're participating via social media and tell them why you're so passionate to help people all around Australia doing it tough. People can then donate to your cause through your fundraising page. 
Does it cost money to get involved? 
It's $25 for an individual and $20 if you're part of a team to register. This fee will include a participation medal and a certificate at the completion of the challenge. All profit raised from registrations and any fundraising from the campaign supports women in crisis and Share the Dignity's mission.