Sue Mitchell just donated

$23.21

Anonymous just donated

$52.75

Jessica Lees just donated

$52.75

Darlene Lees just donated

$106.88

Darlene just donated

$52.75

Jessica Lees just donated

$106.88

Julie Clark just donated

$21.10

Gloria just donated

$52.75

Michael Morrison just donated

$21.10

Anonymous just donated

$52.75

Sofia, Vincent & Nicholas just donated

$21.10

Conrad. Carl and Cameron Cockatoo just donated

$21.10

Leonie just donated

$100

Anne Wood just donated

$105.50

Jemma Black just donated

$31.65

Harley just donated

$52.75

JESSICA LOWE just donated

$50

Gareth Bamford just donated

$52.75

Abigail and Oliver just donated

$21.10

Cara Galea just donated

$21.10
Move4Dignity
Grab your sneakers, tights, and sports bra and get moving on ending period poverty.
This virtual exercise challenge allows everyone to get involved from anywhere. By simply setting your own challenge it also means that all physical abilities can get involved to support vulnerable Australians.
You can take part by going for a run, rolling out your yoga mat, or doing the sport you love — the choice is up to you.
Once registered you'll have your own page where you can upload your photos, track your km's travelled or hours spent doing physical activity.
All participants will receive a 2020 medal along with being in the running for lots of prizes.
Entry: $25 Individual / $20 Team Members.
GET YOUR SHARE THE DIGNITY T-SHIRT
Raise $48 within the first 48 hours of registering.
*Limited to first 300.
1. Register yourself or join a team in either run, yoga, or move (which encompasses any other sport).
2. Put your best foot forward by donating to yourself or asking your family and friends to support you.
3. In October remind your network of your goal and why you're taking part, then share your progress.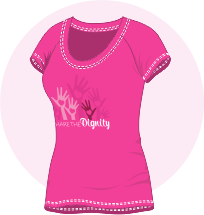 GET YOUR SHARE THE DIGNITY T-SHIRT
Raise $48 within the first 48 hours of registering.
*Limited to first 300.
More Events
Move4Dignity - Yoga
Our unique virtual yoga challenge is a little different this year, allowing you to challenge yourself to a set number of hours of yoga through the month of October.
Move4Dignity - Run
Tighten your laces and walk or run this October. Join the virtual movement suitable for all fitness levels. Simply choose your distance and location, It's really that easy!
Move4Dignity - Other
You have the freedom to move your way. You can swim, surf, dance, cycle, ride, or even skip. Simply set the hours or distance you will commit to in the month of October.
JOIN AN ALL-STAR TEAM TO MOVE4DIGNITY - TEAM KAPOW
Michelle and Martin Taupau are the fabulous Team Kapow captains, followed by a team of all-star NRL players and TV presenters who will get you moving through the month of October.
Not only will you be joining a team of greatness you can win some great prizes such as a $500 Puma voucher and a case of Tamburlaine Organic Wines.
HIGHEST FUNDRAISER PRIZE - $300 INFAMOUS & MINI SWIM VOUCHER
*Winner will be announced at 8am, 1st November 2020
Highest Individual Fundraisers
Frequently asked questions
Move4Dignity is a virtual exercise event that will be running throughout the month of October. Everyone who registers will set their own exercise goal and create a fundraising page. This page is a place where they can share their progress and collect donations for Share the Dignity.  
Registrations for Move4Dignity will open in July, and fundraising is encouraged up until the end of October. The virtual challenge is running throughout the entire month of October.  
Simple, choose whether you will run or walk, yoga or move your own way and select register.  Enter your details to confirm your registration and set up your fundraising page.  
Who is Share the Dignity?  
Share the Dignity is an Australian Charity aiming to end period poverty in Australia. Our mission is to ensure that people experiencing period poverty have the dignity of access to period products to manage their period because these items are a basic human right, not a privilege. 
Let people know you're participating via social media and tell them why you're so passionate to help people all around Australia doing it tough. People can then donate to your cause through your fundraising page. 
Does it cost money to get involved? 
It's $25 for an individual and $20 if you're part of a team to register. This fee will include a participation medal and a certificate at the completion of the challenge. All profit raised from registrations and any fundraising from the campaign supports women in crisis and Share the Dignity's mission.  
Thanks to our Move4Dignity sponsors